Expert Subaru Car key replacement Boston
At Mobile Locksmith Squad, we have some of the most highly trained experts who will help you get another key for your car. Whether you want a car key duplication, maintenance, or replacement of some old parts, then we have got you covered. We are a reliable solution when it comes to Subaru car key replacement services. When you contact us, you get served by some of the best in the industry and guarantee that your locks are safe. This is because we have a state of the art equipment to cut keys to precision. Call us today and have your car key problems solved in no time. If your key is old, worn out, bent, damaged, broken, or lost, do not worry. We have the solution to your problem at the most affordable prices.
Subaru Lost car key Replacement
Dealing with lost keys is annoying and frustrating. In some cases, you can work your way out of a car lockout without much of a hustle. But, what do you do when you lose your car keys, and you need them for your everyday use? A spare key always comes in handy in such situations. However, not many people think of spare keys when they have one that works and is in good condition. Do not be one of them. Be prepared for the worst-case scenario. Have a duplicate key made for your car, in case you lose yours. However, if you did not have a chance to duplicate your car key before losing it, do not worry. We have mobile units that will come to your location with the tools necessary to make a new car key for you.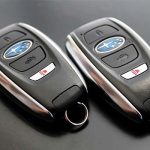 Subaru Car Lockout Locksmith
Dealing with a lockout is not a walk in the park. In most cases, you have to deal with people staring at you and some embarrassing moments too. If it is late at night and in the middle of nowhere, you can be terrified. However, this does not always have to be the case. Should I forget my car keys in the trunk when I lock it? What do I do? Who do I call to my rescue at the odd hours of the night when I am locked out of my car? All these are problems that experts from Mobile Locksmith Squad handle in the shortest time possible. If you lose your car key, we replace them in less than 15 minutes. On the other hand, if you lock your car keys in the car, we will pick the locks and leave them in good shape.
Subaru Door Lock change
Whenever you feel that your door locks are loose or keep getting stuck, you may be called in a professional from Mobile Locksmith Squad. Not only do we offer our services at any time of the day, but we also bring them to where you are. We are the best combination for Subaru car key replacement with our high-quality products, highly trained professionals, and mobile units. We have the best locks that guarantee safety for your car. Whether you want the automatic or manual locks for your car, the old types, or the new biometric locks, do not hesitate to call us.
Subaru Transponder key programming
Are you looking for an experienced team coupled with the most advanced technology to help with your car key issues? Are you interested in a service provider who delivers exemplary services when it comes to maintaining your car key? Whenever you feel like your transponder car key needs to have its program rewritten, we are the people to reach out to. We put in much effort to ensure that you no longer have any trouble with your car once we are through.