Lost Car Keys in Boston
Last month, at the beginning of one of the busiest weeks in our Boston office, I noticed that my car keys were missing. Unfortunately, my husband had already left the house for work in his car, and I was left stranded. I called our local locksmith guys who conduct regular lock repairs in our neighborhood, asking for a quick car key replacement. However, they recommended me to Mobile Locksmith Squad for emergency car key replacement and key fob programming since they couldn't program the newer fobs. Surprisingly, I was so glad they referred me to Mobile Locksmith Squad.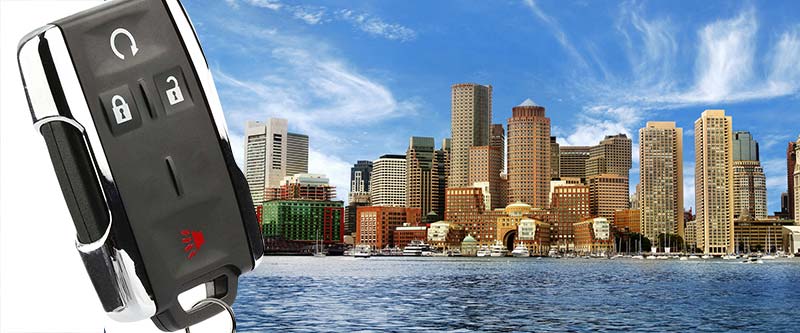 I quickly called Mobile Locksmith Squad for a swift car key replacement and key fob programming for my 2013 Chevy Silverado. They sent is a very friendly technician who arrived in less than 15 minutes since he was on field duty at the time of the call. The technician understood the urgency of the situation. He diligently requested all the relevant information and sympathized with my issue. The technician was able to do the key fob programming right away, allowing me sufficient time to still do a few things before leaving for work.
Luckily, Mobile Locksmith Squad charged me less than half of what our local locksmith had quoted for the car key replacement and key for programming services. Stephen was quick, friendly, professional, and did not have any hidden fees. I would consider Mobile Locksmith Squad again-I highly recommend them 100%.
House Lock Change in Somerville
My brother and I moved to Somerville from Connecticut. We bought a lovely house from a middle-aged couple who had decided to sell everything and hit the road. Luckily, they were professional enough to do a complete home remodeling. Unfortunately, since we are big on safety and security, we noticed the house had locks below our standards.
An emergency house lock change was due since our moving company was a few hours away from arriving in Somerville. We asked our new neighbors for recommendations for the best mobile locksmith. One name kept popping up from almost every homeowner and business owner around our neighborhood. We gave in and called Mobile Locksmith Squad, requested for house lock change, and briefly discussed how much it would cost to replace locks.
Mobile Locksmith Squad sent a service truck twice as fast in less than 20 minutes as our local locksmith's ETA in Connecticut. The servicemen welcomed us into the neighborhood, keenly inspected all doors and entry points, and offered us all the available lock options for our new home. What amazed us was the abundance of choice and, most importantly, the high-quality options on the table. Once we settled on the ideal locks, the experts began to replace locks in all rooms. The process was relatively fast, considering we had expected them to take the whole day. Luckily, they came in a fully-equipped service truck, making the process much easier.
Their prices were surprisingly fair and affordable. We vowed to contact them again if any lock accessibility issues in our home or my brother's truck.
Rekey Locks in Brookline
If you run a business like me, you know what it means to worry about break-ins constantly. In fact, before moving into my new office, my workers recently lost their valuables one evening when thieves decided to break into our office. I'll be damned if I hadn't made a quick decision to move into a new office.
After moving into our new office, I searched for a reputable locksmith near me. My search ended with Mobile Locksmith Squad, who recommended installing DL2700 Alarm Lock Trilogy lever locks for my new office. Since I didn't know how many people had access to the new office's lock system, I asked the locksmith company to rekey locks.
We set a time for later that day. To my surprise, they came five minutes before time, looking sharp, determined, and ready to rekey locks and install new commercial door locks. They checked every door in the entire office, recommended a few commercial door locks from reputable brands, and marked the doors that needed rekeying.
I am thrilled I relied on them for the project. They rekeyed some of the door locks and recommended replacing a few old ones with T2 electronic door locks to enhance security. Now my new office feels ten folds more secure than before. I would honestly recommend them for your business. Did I mention their prices were competitive and surprisingly affordable?
Lost Car Keys and Locked Out of Car in Boston
Last year, when I returned from visiting my extended family after Thanksgiving, I did not expect the ordeal waiting for me at Boston Logan International Airport that night. As soon as I landed at Boston airport, it was a matter of time before I realized that I lost my car keys. Stranded at the Central Parking Garage in Boston Logan Airport, I resorted to calling a 24-hour locksmith company since it was getting late, and it was apparent I was not going to get help any time soon. After a few futile attempts, one of the company agents called me and referred me to Mobile Locksmith Squad, a 24-hour locksmith operating in Boston.
I called the guys, who assured me they would send a guy in the shortest time possible. In around 20 minutes, the agent called back and apologized, saying the technician would be just a few minutes late. It was pretty much understandable since it was late at night and it was during the holidays. In less than ten minutes, a guy pulled up in my vicinity, offered apologies for being late. He helped me unlock my car and got me a key replacement.
He was very friendly through the entire process and cracked a few jokes to ease my obvious tension and disappointment. In a few minutes, he unlocked the car, and for once, I was glad to be inside a familiar territory. I am eternally grateful for the late-night service I got from Mobile Locksmith Squad and would recommend them in a split second.
Key Broke In Lock in Chelsea
Have you ever had one of those days when you feel things are not going accordingly? I recently returned from work tired after a long day when I had a situation with my door. On normal days, operating my door is usually a breeze. My door locks have been functioning for over a decade. Lately, I have been convinced more than ever that my door lock system has never been this sturdy and reliable.
However, on that particular day, as I was coming back from work, the key broke in the lock, which was undoubtedly not a favorable situation. I tried undoing the damage, but the damage persisted. I had to find a locksmith near me in the shortest time possible since it was getting dark and security was becoming a challenge around my home in Chelsea.
As luck would have it, I found on google a neat and professional-looking website advertising the best 24-hour locksmith near me. I quickly dialed the number on Mobile Locksmith Squad's website and got connected to a dispatcher. I explained that the key broke in the lock situation, and they promised to send in an expert technician. In less than 20 minutes, the technician arrived with his work tools and got to work.
I was pleased by how fast, professional, efficient, and friendly the expert was. He charged me reasonably and made me promise to call them again in case of any lock and key problem at any time of the day. I will gladly recommend Mobile Locksmith Squad for being there on time.
Locked Out of Apartment in Cambridge
I recently moved in with a few roommates in a new place in Cambridge. Unfortunately, not all of us had access to the apartment keys. We had to operate on a schedule to be able to access the apartment. During your first week in the apartment, there was an attempted break-in on our apartment. None of us was around at the moment.
Luckily, the perpetrator's "master key" broke inside the lock. The building manager had recently hired Mobile Locksmith Squad to change the lock system, which may have been hard for the perpetrator to access. Because we were locked out of apartment premises because there was a broken key in the lock, we requested the building manager to call the mobile locksmith on our behalf.
Mobile Locksmith Squad sent in an expert quickly who was familiar with the territory. Thanks to the fast and professional locksmith from Mobile Locksmith Squad, we were no longer locked out of apartment premises in less than ten minutes. Additionally, we also requested the expert to rekey locks to prevent unauthorized entry again. He gladly rekeyed the locks in the shortest time possible and charged us lesser fees for it. The expert also suggested the possibility of getting every one of us a copy of the apartment keys to ease access.
Generally, we were thrilled with the services and the price discount we received as returning clients.